Return to Headlines
Walk to School Day: "Being Active Helps Us Learn"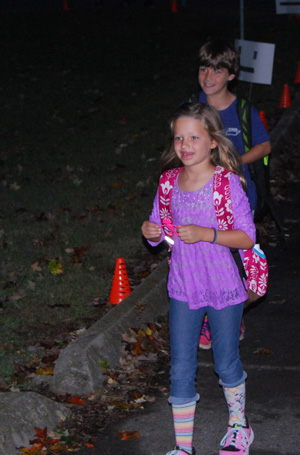 As one student said after walking to school before the sun rose on Oct. 8, "Being active helps us learn." This simple sentiment defines one of the purposes for Walk to School Day, an international effort emphasizing safe routes to school and physical activity.
More than a dozen schools in the Knox County Schools participated in International Walk to School Day, meaning that potentially more than 2,000 students, along with moms, dads…even pets, walked safe routes to school to start the students' day of learning.
At Sequoyah Elementary School, all 450 students had the opportunity to participate, even those who ride the bus to school. Physical education teacher, Becca Russell, organized a walking path around the front lawn of the school, complete with cheering teachers and clever incentives, for all students to enjoy. Once they arrived at the school, students were greeted with theme music and excitement.
Students at Inskip Elementary School also walked along a path on their campus and were greeted with incentives to help them continue to be active: Jump ropes and Frisbees.
Schools helping their students start the day of learning in a fun and healthy way include these:
| | |
| --- | --- |
| A.L. Lotts Elementary School | Inskip Elementary School |
| Bearden Elementary School | Norwood Elementary School |
| Belle Morris Elementary School | Sequoyah Elementary School |
| Blue Grass Elementary School | South-Doyle Middle School |
| East Knox County Elementary School | South Knoxville Elementary School |
| Farragut Primary School | West Hills Elementary School |
| Fountain City Elementary School | |