Return to Headlines
Student Space Experiment Chosen for Mission Aboard International Space Station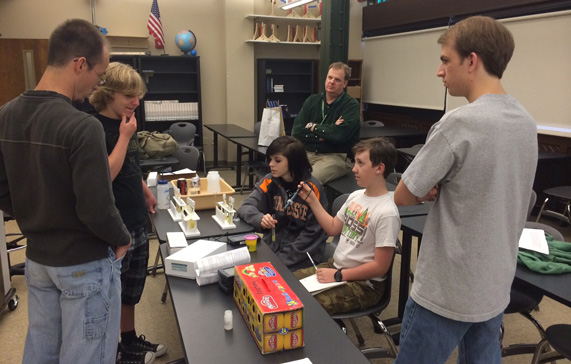 A microgravity experiment designed by a team of students in the Knox County Schools will be flown on the International Space Station this fall. The team is comprised of students from L&N STEM Academy, whose experiment is "Waste in Space: Exploring the Effect of Microgravity on the Rate of Decomposition of Corn Starch by Rid-X."
The team's proposal was chosen last month from three finalists from the Knox County Schools. It will undergo NASA Flight Safety Review before it will be sent into space this fall. In space, astronauts will perform the necessary protocols for the student research mission.
This program began in February, when students in the Knox County Schools had the opportunity to assemble teams to design experiments as part of the Student Spaceflight Experiments Program's (SSEP) Mission 6 to the International Space Station (ISS). SSEP is a national STEM education program undertaken by the National Center for Earth and Space Science Education (NCESSE), in partnership with NanoRacks, LLC. Three space experiments were chosen in May as finalists and were forwarded to NCESSE for a national Step 2 Review at the Smithsonian's National Air and Space Museum.
The L&N STEM Academy student experiment will be transported to the ISS aboard the Orb-3 vehicle launching on Oct. 21, 2014, from the Mid-Atlantic Regional Spaceport, Wallops Island, VA, and returning to Earth aboard SpaceX-5, which will splash down in the Pacific Ocean on Jan. 8, 2015. Both dates are subject to change according to NASA's requirements. For more information about the Mission 6 to ISS, visit
http://ssep.ncesse.org/current-flight-opportunities/ssep-mission-6-to-the-international-space-station- iss/
.
The other Knox County Schools teams named as finalists include
Hardin Valley Academy: The Effect of Microgravity on Bacteria Growth on Alfalfa Sprouts
Bearden Middle School: The Effect of Microgravity on Fruit
In all, 115 students in Grades 6-10 from six schools participated, from which the finalists were chosen.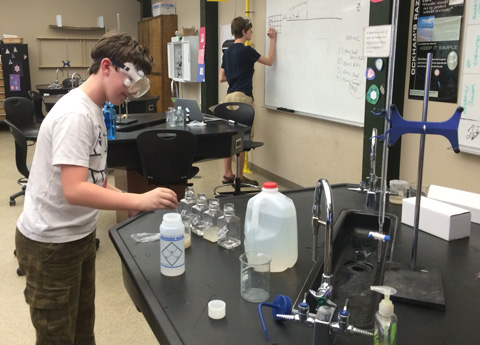 "This authentic science competition enriches and personalizes learning for our students," said Becky Ashe, principal at L&N STEM Academy. "We're proud of all of our teams, and we look forward to next year's competition, which actually starts in September 2014."

Students worked in project teams to learn about microgravity experimentation, design their own experiments and write NASA-style proposals. All experiments were Fluids Mixing Enclosures (FME), simple mini-laboratories that allow fluids or solids to be mixed in orbit, giving students an understanding of the effects of microgravity on physical, chemical or biological systems.
Teams, mentors, teachers and others involved in the initiative are invited to attend a "Mission 6 Launch Party" to witness the historic event together. The Launch Party will be held at the L&N STEM Academy on the evening of the launch, currently set for Oct. 21 (date subject to change).
Work on Mission 7 kicks off on Sept. 8, 2014. For more information, visit
knoxschools.org/stem
.
The Knox County Schools STEM (Science, Technology, Engineering, Mathematics) Instructional Program sponsors this school system-wide initiative to involve students in authentic science and offer them the chance to be part of the U.S. Space Program. The initiative is supported by a grant from the University of Tennessee, Knoxville.
SSEP uses a commercial spaceflight payload, which will contain the SSEP student experiments that will be placed aboard ferry vehicles for transfer to the ISS. SSEP is the first pre-college STEM education program that is both a U.S. national initiative and implemented as an on-orbit commercial space venture.
The Student Space Flight Experiments Program (
http://ssep.ncesse.org
) is undertaken by the National Center for Earth and Space Science Education (NCESSE
http://ncesse.org
) in partnership with NanoRacks, LLC.
This on-orbit educational research opportunity is enabled through NanoRacks, LLC, which is working in partnership with NASA under a Space Act Agreement as part of the utilization of the International Space Station as a National Laboratory.