Return to Headlines
BMS News and Announcements
Thank you to everyone who took time out of their schedules to be with us for Parent Night last week. It was a good evening and, as promised, the presentation we shared with current 6th and 7th grade families can be found here.
Knox County Schools Summer Learning!
Click here for Middle School information.
Who is eligible for this program? Click here for information.
TCAP (State Testing) Information
Please mark April 18, 19, 20, 25, 26, and 27 on your calendars as our Spring test dates! All tests will happen first thing in the morning until finished.
After-School Tutoring Schedule
Please pick up your child no later than 4:45 on the Middlebrook side of the building.
Dates: Mondays and Wednesdays, October 17, 2022 - April 14, 2023 from 3:35 - 4:45 *unless noted otherwise*
This is a great opportunity for students to receive extra support in Math, Science, ELA, and Social Studies.
If you have any questions, please contact joe.morelock@knoxschools.org
Bearden's Got Talent is THIS FRIDAY (March 31st)!
Students can purchase tickets to the in-school performances before school and at lunch on Wednesday-Friday this week. Sixth graders will attend at 9:40am Friday, seventh graders will attend at 2pm, and eighth graders can attend one or both shows. All students must have passing grades and no RLC or Suspensions since Spring Break. Tickets are $5.
The evening performance is open to the public, and tickets will be sold at the door. Tickets are $10/adult and $8/student. Show starts at 6pm, and concessions (including flowers) will be sold before the show and during intermission!
Saturday School: We are hosting Saturday School on the following dates. Students may be referred for the following reasons.
a student who is missing multiple assignments for various reasons.
a student who is failing one or more subjects
a student who is struggling and needs support redoing assignments
Students can be referred by administration for discipline
If you have questions/would like your child to attend, email meshon.crateau@knoxschools.org.
The remaining Saturday School Days are: April 1, April 29, May 13.
Yearbook!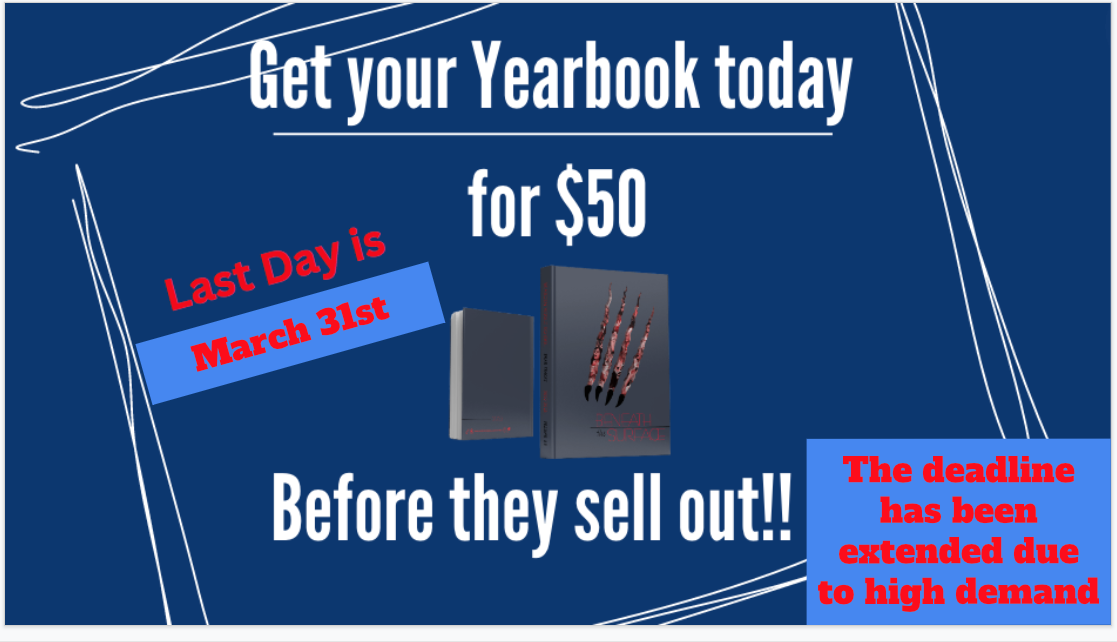 BMS Cheer Tryouts!
Parent Meeting, April 4th, 5:00pm
Tryouts, May 1st - 3rd
Dance Team at BMS Next Year:
Wednesday, April 12th: 3:45 – 4:15, Parent/Dance Team Interest Meeting (Room 237)
Tuesday, May 9th: 3:45 – 5:45, Dance Team Clinic (Gym)

Girls pay $10 to try out
Must have physical forms filled out (This gives parents about 4 weeks to get that done

Wednesday, May 10th: 3:45 – 5:45, Dance Team Try-Outs (Gym)
Friday, May 12: 3:30 – 4:30, Fittings From Varsity (Room 237)
Main Event: Each student has the opportunity to attend an incentive Field Trip to Main Event. The cost of the field trip is $20/student and includes unlimited play at Main Event, an Arcade Card, Pizza and Drinks. Students must be passing all classes and have no behavior resulting in OSS or more than a ½ day of Restorative Learning Center for the 4th quarter which starts March 20th.
6th Grade Main Event, Grades and Behavior Incentive Field Trip: May 16
7th Grade Main Event, Grades and Behavior Incentive Field Trip: May 10
8th Grade Main Event, Grades and Behavior Incentive Field Trip: May 12
Movie Night! The BMS community is invited to enjoy a movie on the athletic field and celebrate this year's many successes. This is a GREAT evening for the whole family. Friday, May 12.
8th Grade Commencement and Awards: Friday May 19, 7:00pm at Bearden High School
8th Grade Dance: Last Monday or Tuesday of School. Will update with the date ASAP.
BMS Foundation Curtain Call Campaign!
Thank you to all who have already given or pledged to the campaign to renovate seating and update sound equipment in our auditorium. Please consider making a
pledge or donation here,
to support these upgrades and our school community. No donation is too big or too small and you can pay later. You can also set up automatic monthly payments. We appreciate your support as we strive for the best possible opportunities for our students!
High School Information:
Information from KCS High Schools will be posted below as it is received. Parents/Guardians/Students should also check their high school's website for information.
Bearden High School
Fulton High School
Karns High School
February 15 - Parent Night
February 24 - Registration at Bearden Middle
March 9 - Student visit at KHS
Powell High School
8th Grade Parent Night on Tuesday, March 7th 2023.
5:00-6:00 pm: We will have a Curriculum Fair in the Commons for Sports and Clubs and teachers will be set up outside their classrooms for a Meet and Greet.
6:00-6:30 pm: Students and parents will meet in the auditorium for a word from Dr. Chad Smith with an overview of what to expect at PHS. The Curriculum Fair and Teachers will still be out for a few minutes after the presentation if parents cannot make it before the 6:00 presentation.
West High School
Cheer Tryouts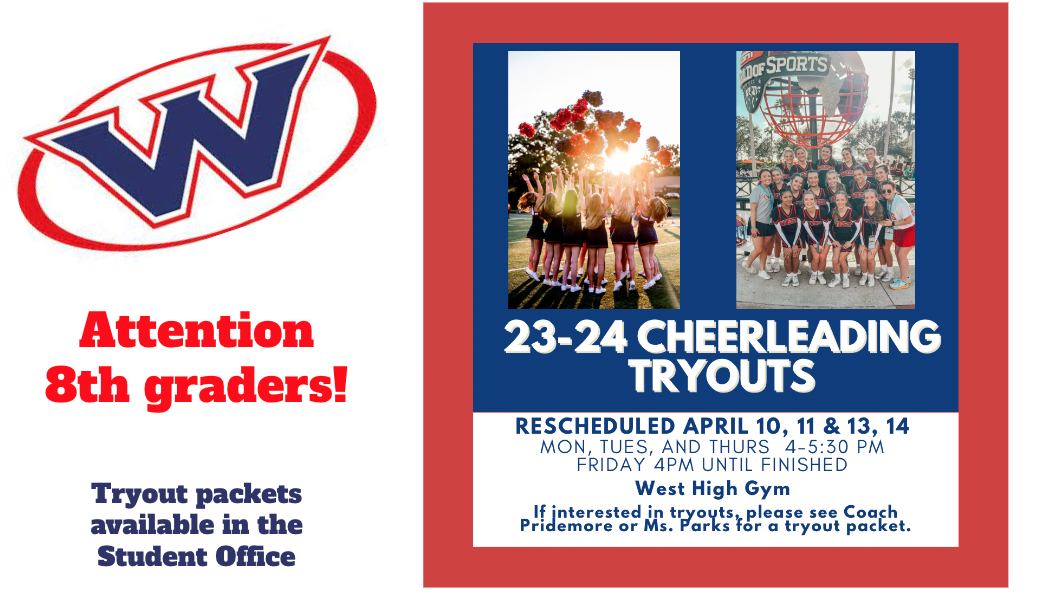 Morning Drop-Off: Busses and car riders will drop-off at the Middlebrook Pike entrance. Special Education Busses and Special Education Shuttles will continue to drop-off on the Francis Rd. side of the building and enter with staff through locked entrances. If you choose to drop your child off from a parking space at the Middlebrook Pike parking lot instead of using the drop-off line, then please tell your child to use the cross walk when walking to the building.
2022-2023 Mornings at BMS: Students can enter the building beginning at 7:15am from the Middlebrook side. Please do not drop students off at the Francis Rd entrance. The doors will be locked.
7:15-7:30am - Students sit in the cafeteria
7:30-8:25am - Cafeteria open for breakfast - Students wanting breakfast must get it as soon as they enter the building.
7:30-8:00am - 6th Grade Reports to the Auditorium
7th and 8th Grade Report to the Gym
8:00am - Students dismissed to 1st period
8:25am - Any student arriving after 8:25 must be accompanied by a parent into the main office (at the Francis Rd side of the building) to be signed in.
Afternoon Pick-Up: Remains the same as last school year. Busses will pick up on the Francis Rd. side of the building. Bus Riders and Walkers will be released at 3:25pm. Car Riders will be released at 3:30. Students can be picked up in the Middlebrook Parking Lot or alongside the building. I've attached a link to the traffic flow pattern here.
*Please note: Turning left onto Middlebrook from the parking lot is not allowed. If you want to turn left onto Middlebrook, exit to Francis Rd and turn left at the Francis Rd, Middlebrook Pike intersection.

If you need assistance:
8th Grade; Principal - tenisha.marchbanks@knoxschools.org,
8th Grade; Counselor - marianne.lesler@knoxschools.org
7th Grade; Principal - meshon.crateau@knoxschools.org,
7th Grade; Counselor - ruth.neubertdyer@knoxschools.org
6th Grade; Principal - logan.mckinney@knoxschools.org,
6th Grade; Counselor - jimmy.cannington@knoxschools.org
2022-2023 Frequently Used Links
(Early Check-Outs, Late Arrivals, BMS General Attendance Information, and KCS Attendance Policies)
(Enrollment paperwork must be received in-person. Parents/Legal Guardians must come to BMS if they are enrolling their child. Click the above 'Enrollment Information' link for additional important information.)
Food Service Information (Knox County Schools):
ParentSquare (a new communications platform that replaced SchoolMessenger)
Calendars:
School Zone Search
Technology Information:

Transportation Information:

Bearden Middle School:
Knox County Schools:
Current 8th Graders:
The Knox County Youth Health Board is a service-oriented group of high school students from Knox County who are committed to learning about health and our community. It is led by the Knox County Health Department and Coordinated School Health. It meets once a month at the Health Department. In addition to the once-a-month meeting, the YHB will participate in community service projects throughout the school year.
Please see the attached flyers/application for the YHB.
Knox County Youth Health Board Flyer
Knox County Youth Health Board Brochure
Free STEM Summer Camp for Rising 5-8th graders at UTK Tickle College of Engineering!
High School and Middle School IT Opportunities!
Click here and here for informational flyers from Pellissippi State Community College.
Link to sign up for the Middle School Saturday Clubs: https://forms.gle/v7XXbArk7fSzrWB6A