Museum Hours:
Monday thru Friday, 11:00 a.m. - 4:00 p.m.
Phone:

(865) 579-8264

Ext. 1072
Located in the
Sarah Simpson Professional Development

Room 100

801 Tipton Avenue, Knoxville, TN 37920
The Knox County Museum of Education is located on the first floor of the Sarah Simpson Professional Development Technology Center, 801 Tipton Avenue.

The museum opened in September 2006 and includes collections of materials from the Knoxville City Schools which merged with the Knox County Schools in 1987 as well as material on Knox County schools. Records of schools dating back as far as 1820 have been found and are available for viewing at the museum.


Contacts:
Sock Hop nets over $4,500 for museum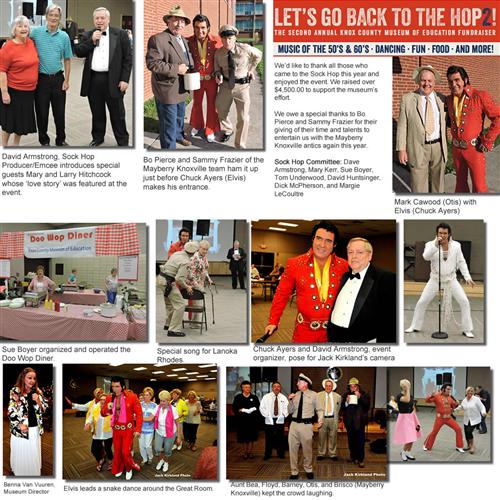 The "Let's Go Back to the Hop 2" netted over $4,500 for the museum, according to the final report by the treasurer. The "Elvis" event featured the Voice of Charlotte's Chuck Ayers as Elvis, the Mayberry Knoxville characters (including Barney Fife, Otis, Briscoe Darling, Aunt Bea, and Floyd), the Doo Wop Diner, a Silent Auction, and souvenir photos by Andy Vance Photography.
During the event, Elvis sang 'special' songs to four couples whose stories were featured in the show. They included Larry and Mary Hitchcock, Tom and Sandy King, Bobby and Brenda Gratz, and Jack and Sandy Kirkland.
"I want to thank all those who worked so hard to make this event a success," said David Armstrong, Producer and Emcee. The Sock Hop Committee members were David Armstrong, Mary Kerr, Sue Boyer, Margie LeCoultre, Tom Underwood, David Huntsinger, Dick McPherson, and Tanna Nicely.
Download 2016 Sock Hop Fund Raiser Report