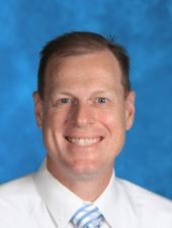 I want to welcome you to the Gibbs High School family. I am truly honored to be the principal at Gibbs. This community and school mean so much to me personally and professionally. I know how blessed I am every day to be at such a special place.
We have another exciting school year at Gibbs High School. 2016-17 will be a year of many changes including new bell schedules imbedding daily intervention/enrichment time, TN Ready state assessments, and other continuous improvements for our student outcomes. Our staff is committed to raising the academic standards and expectations for our students. We seek your support for our efforts in achieving these rigorous academic standards. We ask you to partner with us in your child's education. Prompt and continuous attendance, communication with teachers, and holding students accountable for their academic performance is essential to increasing student success.
The motto, Gibbs kids can do anything is not just an empty belief. It is a fact, but only if we demand more of ourselves and our future every day. See more of our vision and beliefs under About Us on our website. Please take a moment to partner with us by joining our Gibbs High PTA and our new Gibbs High Foundation. These are great organizations to help parents, students, alumni, and community to be involved in our school.
I hope to see you on our campus for performances, Open House, plays, and athletic events this year.
War Eagle!
Jason Webster, Principal